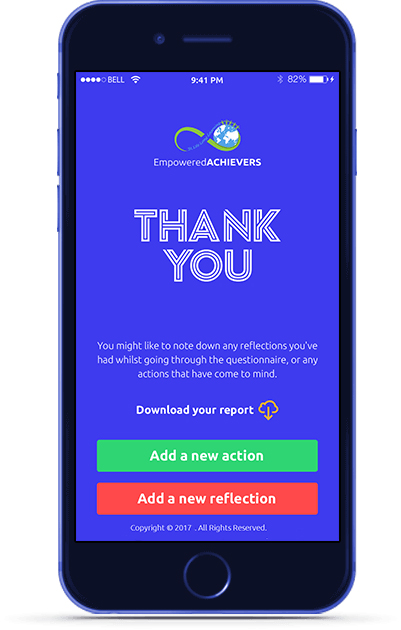 Our App will increase your awareness of what holds you back from being even more effective at transferring your learning, and speeding up your behavioural change, so that you have more impact and add value to your business and your life.
Easy to download

The Empowered Achiever App is easily downloaded via Google Play or Itunes Stores. It is easy to install and you can start working on your personal development quickly and easily.

Anytime, Anywhere

The Empowered Achiever App can be accessed anytime, and anywhere, helping you learn when and wherever you want to learn.

You Are Unique

The App will help you diagnose your unique approach to learning and behavioural change.  It will diagnose, feedback, structure your learning and support you in your learning application whatever your context: at work, in education or in life.

Evolving Design

The App is a research-based approach which is meant to deal with a dynamic approach to learning.

This is just the 1st stage of our development journey, focussing solely on the individual's learner's capability and motivation to apply their learning and gain the support they need.

Over the next year we will be adding additional modules that will further increase your learning impact by increasing your effectiveness.

Community Programmes

We're inviting colleagues in our development community across Europe to develop stand alone programmes that you'll be able to download through the App.  More information will be posted as those programmes become available.

We Care About Making A Difference

Becoming An Empowered Achiever App aims to act like a personal coach to support you in becoming more aware of your current behaviour and how with small steps you can improve your personal impact on work and life.
Complete the questionnaire on our App to discover what may be holding you back from being more effective when applying your learning or changing behaviour. Your personal report will show you areas that you may like to improve. Use our Action List and Reflection tool to make a note of your thoughts, ideas and plans. Our content videos will then guide you through changes that you might start wanting to implement.